Top of the Bag: Your Thoughts?
Pull the Fairway Woods, Hybrids and Irons, down to and including the #6 Iron, out of your bag and for each make a hard cold judgment. For each of those clubs imagine 10 shots out on the course and map the variation of performance.
Your #6 Iron is probably pretty consistent. You hit it pretty much the same length every time with, depending on your handicap, a pretty good shot dispersion (accuracy). At the top end of the bag it is probably, even for the better and best amongst you, a different story. The fact is, the longer the club length, the harder it is to get the face square at impact and the harder it is to find the sweet spot.
Hybrids have the advantage over Irons (#3, #4 and #5) because the weight distribution in the head and the face design means the hitting zone is enlarged while the launch is made easier (by a deeper and lower CoG). That means much more consistency of length on your shots with a Hybrid.
If you are comparing a strong Hybrid to a #7 or #5 Wood, then again the Hybrid carries the advantage in consistency. It will have a slightly shorter club length and while that means you probably lose a little distance vs a pure hit with the #5 Wood, you are going to hit the sweet spot (courtesy of the shorter shaft) far more frequently with the Hybrid.
But how many of you look at your clubs with that level of critical appraisal? How many of you just carry 2 Fairways because that's what you have always done? How many of you have replaced just a #3 Iron with a Hybrid and not considered whether your performance (and enjoyment) would be improved by replacing your #4 and #5 Irons?
Come and speak to me about what would be the best solution of the top of your bag.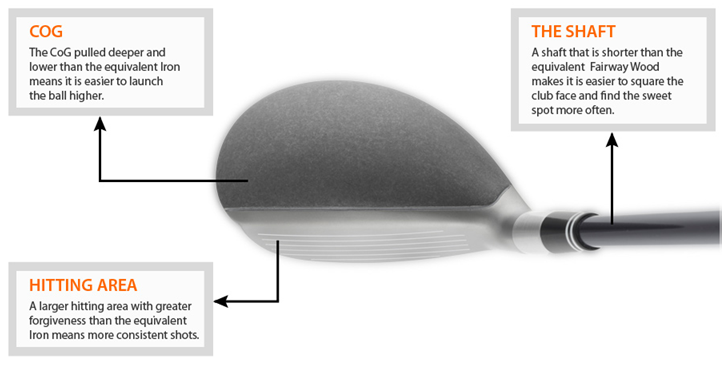 x